Leopard Print Scarf - Vintage, Free via Clothes Swap
Purple Linen Shirt-dress - Tweeds, Goodwill ($2)
Brown Leather Shoulder Bag - Charter Club, Discount Center ($3?)
Black Flat Sandals - Breckelle's, Reflection ($22, but free with gift card)
You know those pieces in your closet that you are just so proud of? Either they just fit perfectly or they were such a great deal that every time you wear them you can't help but smile? This dress is one of those things for me. I'm a sucker for a shirt-dress, particularly one that's not super short, and this one only cost $2! Plus the purple color is pretty killer.
Also a high note for me: I've been searching for affordable flat black sandals months. And by affordable I mean less than $10. Obviously the ones I'm wearing here are twice that price, but I used a gift card so it totally didn't matter! Yay for gift cards, right?

Onto a completely different topic, there are a few items in stores that I am currently craving. My friend T recently started working at J Crew, which means she gets a killer employee discount. She already scored me some amazing lavender pants from their sister store Madewell ($25!) and I also picked up an awesome high-waisted denim skirt ($12!) that I'll probably wear tomorrow. But here are few things I've got my eye on: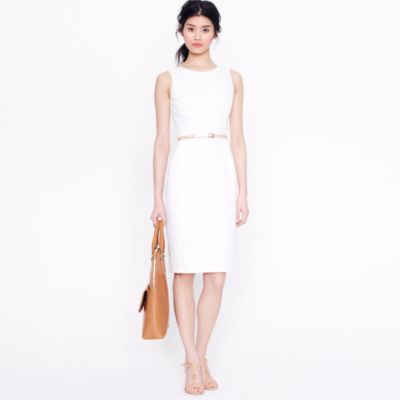 This white sheath just screams summer to me and, although you can't see it, it has an adorable low-back with a bow. I tried it on in store and loved it, but they didn't have my exact size so I'm waiting on T to get it for me.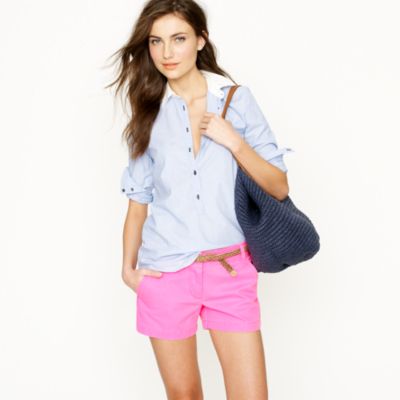 Yes, I am a grown up, but I just can't seem to shake my obsession with the neon trend that's happening now. This photo doesn't really do these shorts justice, but they are some of the brightest neon pink shorts I have come across. I love them. Yes, they are ridiculously impractical and maybe this time next year I'll think they are hideous, but what can I do? I'm obsessed :)
What trends have you all been obsessing about? Let me know in the comments!