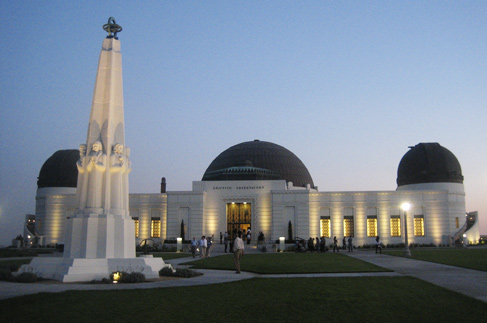 Yes, I am still alive. I know I have been neglecting my beloved blog, but I have a semi-acceptable reason: I have not gotten my camera back from the repair shop. Apparently some part had to be special ordered, and thus I am in blog purgatory, as it were, without any way of generating original images. Thus, I have a randomly googled image of Griffith Observatory instead of the real deal. Why Griffith Observatory, you ask? Because I spent the evening there tonight! Awesome, right?


Though I've lived in L.A. my entire life, this is only the second time I have ever gone to Griffith Observatory. And the last time was at least ten years ago. I think the only reason I don't go more often is because I am too lazy to sit in traffic and drive all the way up there. But it's so great to be able to see all the stars and catch the super-informative planetarium shows. Plus, today the major roof telescope was focused on Saturn, so that was pretty cool to see.
Is it weird that every time I see Griffith Observatory it reminds me of movies? I always think of either the rooftop Autobot meeting in the first (and most awesome)
Transformers
or
Rebel Without A Cause
. Poor James Dean. On a semi-related note, I finally finished reading
East of Eden
! I know it's taken a while, but I only read during breaks at work and it is 600 pages long, so cut me a little slack. It was just as beautifully written as I remembered.


However, I had totally forgotten the part where Lee tells the story of his birth and that's been haunting me for the past few weeks (if you don't know what I'm talking about, look it up; pretty much the most depressing and gruesome birth story I've ever read). Whatever the case, it was still totally worth it to reread it. And now, after that dense epic novel, I'm giving myself a break by reading Tina Fey's totally hilarious new book
Bossypants
.

It is such an easy read (I'm already halfway and I just started today), and I am a die-hard Tina Fey fan, so I'm certain I will love it as much as I love her.
This may sound ridiculous, but I totally have my next book lined up: Kathryn Stockett's
The Help
. I may be the last person who hasn't read this, but the movie is out this summer so I must read it immediately. If any of you have already read it, let me know what you think!
"Single for the Rest of My Life" - Isyss